Hello Leader,
You just landed in the executive chair, the role you've desired. Now you must realize your window of opportunity. Where to begin? How do you rally your new team to make critical changes and actualize your vision?
This was the situation Ron found himself. When he earned the executive position he had imagined for years, he knew he needed to take action immediately. In this Key you will learn how Ron approached his opportunity to accelerate the growth of his organization. You will discover the three critical elements to mobilize change.
Listen to our podcast here. Please forward this KEY to friends, family and associates.
Sincerely,
Aviv Shahar
Email or call us to schedule an exploratory call on how we can help you and your organization create a new future.
---
The Triangle of Change
"I want to create change. I want my team to develop a new way of leading and working together, to help us move higher up the value chain," said Ron.
Ron had just taken on a new role. He was now responsible for more than 10,000 people in a fast moving global organization. He came to the position with strong leadership convictions and a vision for the business and the organization. Most importantly, Ron understood that momentum was critical. To maximize his window of opportunity to drive change, time was of the essence.
Our conversation immediately moved to a practical focus. Based on his experience with different organizational cultures, Ron believes strongly that the best way to build a highly collaborative environment is to create movement and to quickly resolve execution challenges and unleash innovation.
His request was simple: "I know what I want to build and where we need to get to in terms of business results and operational excellence. What is the best way to mobilize change quickly and build sustained progress?"
We agreed that the first step to accelerate Ron's desired future was to have the leadership team aligned with a shared picture of the future.
"To help your team embrace a new way of working," I said, "we must bring together the three elements necessary to initiate change. Then we apply this momentum to build a fourth element that is critical to actualize your vision."
Sketching on the pad in front of me, I introduced Ron to the triangle of change: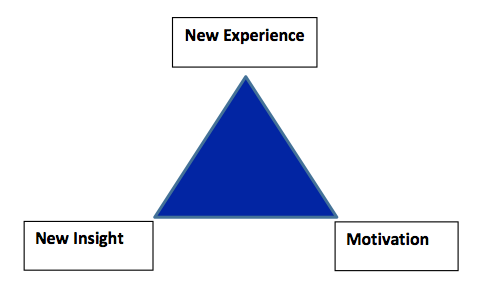 To create change, the team first must gain new insight about the future you are seeking. That new insight raises the awareness necessary to envision and initiate the possibilities.
To jumpstart the process of building your vision of a high impact entrepreneurial organization, you must cultivate new insight and awareness with your team. Members must create radical trust and build the foundation of shared accountability.
With new awareness planted with your team, you then allow them to discover their individual and collective motivation. Motivation is always an intrinsic property. People discover their motivation by answering the WHY question. The "why" establishes what's in it for each individual, the WIIFM (What's-in-it-for-me) and what's in it for the whole team, the WIIFU (What's-in-it-for-us.) You must unleash the "me" and the "us" motivations. Compelling motivation is the second critical element to create and mobilize change.
Once you have new insight and motivation, you bring the change to life through a new experience - i.e., by bringing the future into the present and allowing people to experience it. To fully embrace change, we must experience a new way of working here and now.
What new experience are we talking about?
For example, open and transparent conversations that dramatically accelerate the prototyping of solutions, and build shared understanding of imperatives that convert conflict into rapid joint action. New peak experiences like these build new muscle memory, which transforms the ideas into practicalities, and turns desires into realities. A new experience is the third critical element that must be present to produce change.
Here's why all three elements of the triangle of change are critical:
Insight: Without insight into the possibility of change - how tomorrow can be different, and how you can be different in it - you simply are not aware that change is possible.
Motivation: Without the impetus and passionate desire to lead change and to create a new and better tomorrow for yourself and your team, there will be no movement and no propulsion.
New experience: Without a new experience that brings the change to life, the proposed and desired future is an abstraction, devoid of shared involvement and understanding, and lacking the energy released only through action.
To accelerate change on the path to a new future, you must add a fourth element. New insight, motivation and new experience are sustained by a supportive and purposeful environment. Every aspect of the environment is either helping you or holding you back. The physical space, the organizational design, the governance process, the protocols and agreements, and the reward and bonus structure are the layers of the environment that either support or interfere with your progress. The environment can hold your team back with the gravitational pull of the past, or propel the team forward by the gravitational pull of the future you are creating together.
Organizational effectiveness is brought about by an alignment that invests all of the team's "organizational calories" in the journey to the future you are creating.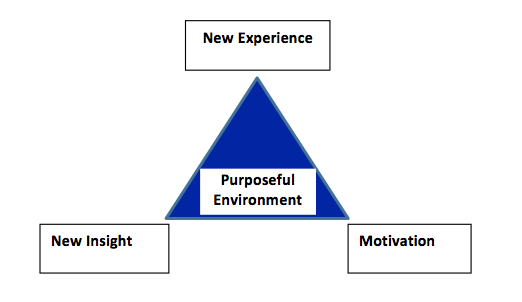 Ron smiled as I completed this quick sketch on the pad. "You are absolutely right. This is my experience also: to initiate and sustain change in everything, we need these four elements. To drive change in our lifestyle, health, relationships-and certainly in our work as a team-we must create these three elements first, and then invest in building a supportive and purposeful environment that will help us realize our vision."
Three weeks later, Ron and I met with the leadership team to embark on the journey of co-creating a new future. Together we envisioned the opportunities ahead. The team agreed to resist, at least for the first day, the trap of immediately bringing up obstacles that would limit their capacity to accelerate the future.
Never, ever begin a change effort by focusing on potential limitations. Limitations create a "doom loop." They prevent you from realizing the "virtuous loop", which is the engine that mobilizes change and enables you to realize new possibilities.
The outcomes of the leadership team meeting were mesmerizing. Participants were captivated by the vision they co-created and galvanized to take action immediately. The dynamic change that Ron had envisioned was underway, propelled by its co-ownership with his leadership team.
I've now facilitated this transformational change process with hundreds of teams. I've seen "converted" skeptics and cynics release themselves from the doom loop and take positive action. I've witnessed the gravitation pull of yesterday giving way to the forward pull of a new tomorrow. And I've experienced the astounding enthusiasm, energy and almost miraculous can-do action that are unleashed as teams are pulled forward by the picture of the future. This acceleration and energy release are tremendously satisfying and inspiring for everyone involved.
These outcomes validates, time and again, the eternal words by Margaret Mead: "Never underestimate the power of a small group of committed people to change the world. In fact, it is the only thing that ever has."
Now it's your turn. Turn the Key. Apply the triangle of change to lead your team as you work to co-create a future that matters to you and to your people.
---
© Aviv Shahar