Hi Leader,
How are you? How are you debriefing the last 12 months and setting yourself up to thrive? What learning insights will you take forward to apply and build on in the new year?
Reflecting on the past twelve months, I am grateful for an extraordinarily special year filled with challenges and opportunities. This was our best and busiest year ever, with exciting work that afforded us a myriad of learning and development opportunities. Working with clients who trust and believe in me is a special privilege. I learn and grow through my interactions with them, and I cherish their successes, development and growth. Below are eight learning insights that I plan to apply throughout the coming year. First though, check out the newly updated avivconsulting.com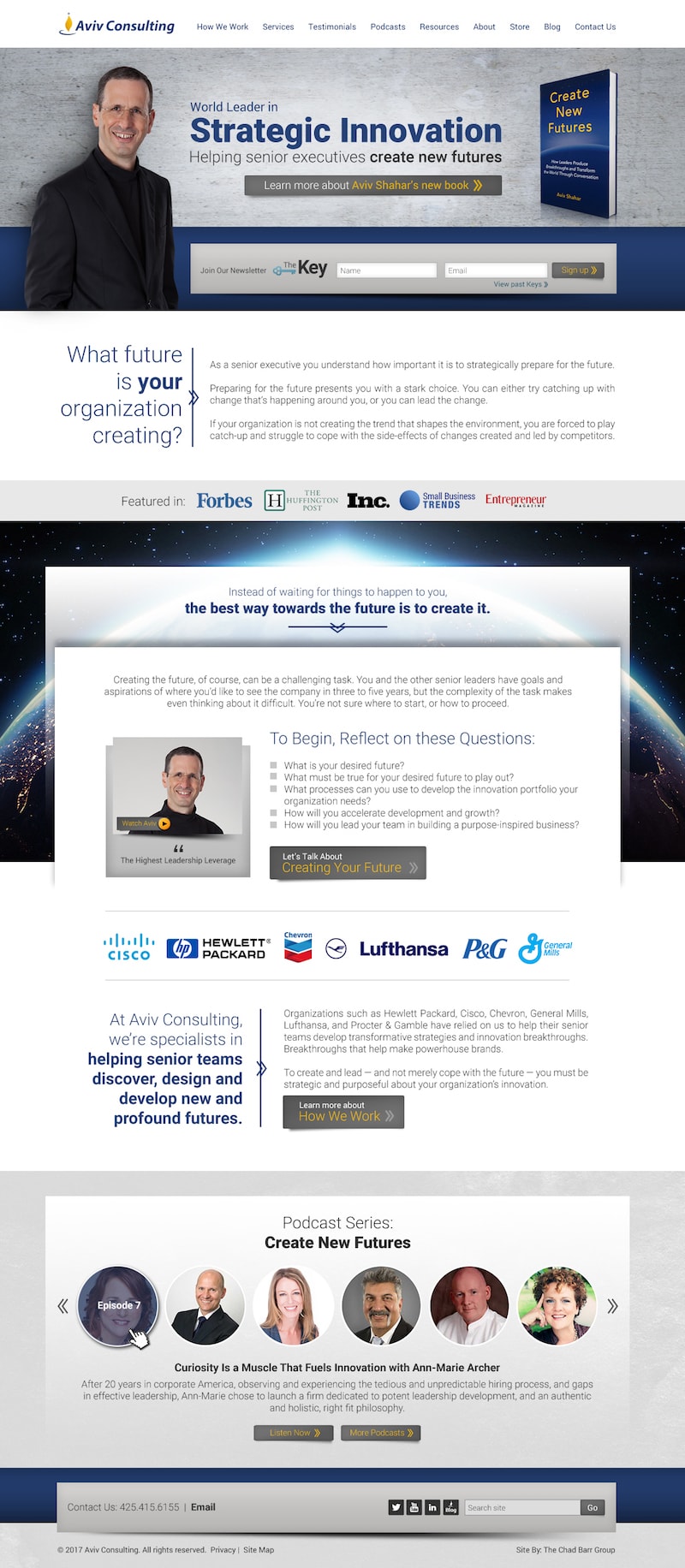 ---
8 Insights for 2018
Champion the leverage of leaders. Since I published Create New Futures in 2016, teams I worked with around the world quickly embraced the book's game-changing idea: because the currency of leadership is conversation, a leader's highest leverage is shaping the conversation. Constantly ask yourself these questions: "What conversation are we in? Is this the most critical conversation for us, or is there a better more important conversation we need to develop?"
Catalyze a new future now. To help senior teams create new organizational and business futures, I teach them to pivot from displaced and disempowering discussions to creating effective conversations that resolve in purposeful agreements and actions. Although simple, this practice requires a profound behavioral shift. The transformative future state always begins right here, right now, in the way we connect the dots and in the conversations we create to enable the envisioned outcomes.
Produce three streams of value. To maximize your contributions and their significance for your clients, constantly strive to create an impact at three levels: ecosystem, team, and individual. This focus will empower you to deliver exponential breakthroughs because it enables you to address the related three layers of value: 1) improved business outcomes, 2) enhanced organizational and team effectiveness, and 3) happier, more successful, and healthier employees.
Discover the third alternative. Refuse to accept the first or second obvious response to challenges. During my daily run on the soft sand at the beach this morning, I developed a pain in the upper part of my right foot. After feeling the pain, I identified my response options. First, I could stop running, which would eliminate the stress on my foot. Second, I could accelerate my pace and push harder to run through the pain. Instead, I defined and chose a third alternative. I continued my gentle running without any visible change while focusing on the pain. I shifted my attention to my right foot. Becoming 100% attuned and present to the discomfort, I breathed into the pain. With a sense of curiosity, I sought to decipher the message my foot was sending me. In less than a minute the pain was gone, and I was able to complete my run.

Occasionally you may experience interactions with people in much the same way that I suffered the pain in my foot. The key is to remember that you get to choose how you respond. For example, if the other person is frustrated and harsh, you can choose to disconnect and abort the conversation (option 1) or become harder and stronger yourself to push back (option 2). Depending on the circumstances, both alternatives can be legitimate approaches. Often though, a third option is likely to be more impactful: become fully present and attuned to the behavior. Don't resist or fight the other person. Instead, become curious about the "painful" behavior. If you breathe into the difficulty, you will discover you've released the struggle. Practice concentrating fully on the purpose of the interaction and on the concerns that need to be addressed to forward that purpose.
Cultivate organizational resilience. As the environment continues to shift rapidly and uncertain, volatile changes unfold, organizations must develop and sustain a high level of resilience. Fostering high-trust networks and building flexible redundancies into the value chain enables them to avoid single critical failure points. Teams I worked with this year have focused on developing robust agility by cultivating personal and organizational resilience. They are developing the mission-critical muscles needed to thrive in a VUCA world by practicing discipline, maximizing their learn-ability, challenging assumptions, and accelerating the prototyping of solutions to address their customers' needs.
Renew your energy. Embrace situations and people that energize you and elicit the best in you. Surrender to the process of personal renewal. Release habits and arrangements that hold you back. Life is too short to allow yourself to be consumed by people who suck the energy out of you, tire you out, engender frustration and fatigue, and dull the brightness of what you can do and who you are capable of becoming. Instead, surround yourself with high-energy people who are filled with optimism, can-do power, and confidence, people who renew you and help you see and seize opportunities.
Trust your intuition and be confident. Obstacles, setbacks and challenges often are blessings in disguise. They can lead the way from a good option to a superior one. To see greater opportunities, you must disassociate yourself from and release outdated attachments. Let go of internalized narratives that no longer serve you well and/or that stunt your growth. You make these shifts by gathering your confidence and conviction, listening to what's arising in you, and trusting and acting upon your intuitive and creative process.
Orchestrate serendipity. Enabling new futures to emerge now requires that you inspire and enable breakthrough experiences that lead people to surprise themselves with their own capability and capacity to be transformational. You must orchestrate and facilitate serendipity by elevating the team's presence, initiating zero-gravity explorations and guiding convergent and purposeful movement that unleashes hidden opportunities.
Now it's your turn. Turn the key. Champion the leverage of leaders. Produce three streams of value. Discover the third alternative. Cultivate organizational resilience. Renew your energy. Trust your intuition and be confident. Orchestrate serendipity that enables new futures to emerge now.
---
How Extraordinary Groups Achieve Amazing Results with Geoff Bellman - Part 2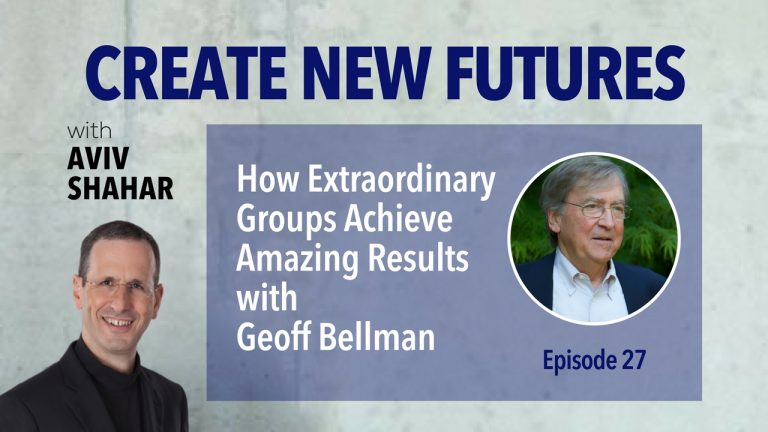 Listen Here: Episode 27 - How Extraordinary Groups Achieve Amazing Results with Geoff Bellman - Part 2
"If we don't know what the world is like, how the hell are we going to deal with it." Geoff Bellman
In part one I've explored with Geoff The Consultant Calling, and the journey of daring to include and integrate who you are, inside your work. Geoff offered, that you become stronger and that you are able to create a greater and more sustained impact when you bring who you are to the work you do.
In this part two we explore Geoff's later book, EXTRAORDINARY GROUPS: HOW ORDINARY TEAMS ACHIEVE AMAZING RESULTS. The question the book seeks to answer is - what enables such breakthrough performance to happen and what are the indicators that can be observed with groups that perform beyond everyone's expectations.