Hi Leader,
Many leaders produce a crisis at work every day. In fact, the crisis addiction is a prevalent dysfunction in many organizations. Why is this the case? What are the reasons for this predicament?
My observation is that many teams and organizations pride themselves on the dive-and-catch work they do. Rescuing from a disaster tells a better story than preventing one in the first place. Inside the crisis drama, people find a sense of purpose and self-importance. Conditioned for the adrenaline rush, they manufacture a crisis that becomes their alibi to avoid a specific kind of work, which I define as Job 3.
---
Your Three Jobs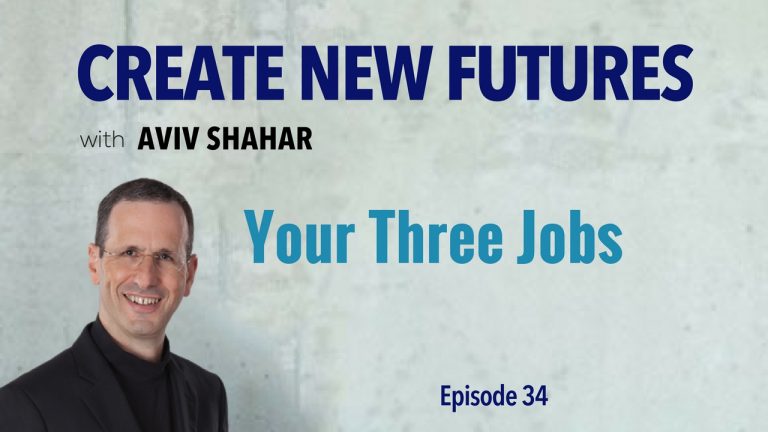 Listen Here: Episode 34 - Your Three Jobs
If you are leading your team to create breakthroughs and build a transformative future, consider the following idea:
To realize your opportunities and create the future you imagine, all of your team members must recognize that they each have three jobs, not one.
In the best and most successful teams, those employed by the most admired companies in the world, people get up in the morning to do three jobs, not one. Let me explain.
Obviously, all individuals have their first job: to serve customers and partners, solve problems, manufacture products, deliver services, sell, fulfill orders and so on. All these requirements and activities are included in Job 1: doing the work.
But no business can survive, let alone thrive, by attending only to Job 1. Everyone in your organization also must take up Job 2: transforming the work.
As the environment continues to shape-shift with new technologies, emergent competitors, growing markets, and new, previously unimagined possibilities, your workforce must transform the way work gets done.
What's involved in transforming the work? What does Job 2 include?
You simplify processes, automate routine activities, and repurpose resources. You come up with novel solutions, innovative products and services, and new business models. You take advantage of unique opportunities to transform the way work is done in every business unit, supporting function, and organizational department by engaging deliberately and thoughtfully in Job 2.
How do teams accomplish Jobs 1 and 2 at exemplary levels?
My observation having helped numerous fortune 50 companies and their leadership teams is that to perform Job 1 and Job 2 at the highest levels, we all must embrace as part of our daily menu Job 3: transforming ourselves.
Job 1: doing the work
Job 2: transforming the work
Job 3: transforming yourself
I propose that by engaging in Job 3, you produce dramatic results because you are able to accomplish Jobs 1 and 2 at a whole new level of energy, momentum, and impact.
What's included in Job 3?
You engage in new learning, assimilate innovative ideas, and develop additional skills and capabilities. You increase self-insight and awareness, and cultivate business acumen. You realize your potential as a leader by building presence, focus, and clarity of thought, and by transforming your presentation.
In Job 3 you reflect on and formulate your responses to questions such as:
What is my purpose and mission?
How will I renew myself? How do I reinvent who I am becoming?
In what ways will I increase my executive presence and impact by integrating story-telling to my leadership style?
How will I enhance the effectiveness of my team by evolving as a mentor and a coach?
What are the causes for the unnecessary dysfunction and drama I enable? How will I significantly reduce their frequency in my ecosystem?
How will I cultivate my team's innovative thinking by fostering a whole new level of resiliency?
How will I increase my decision-making speed by learning to better trust my judgment and intuition?
What new capabilities and skills will I develop?
How will I advance my brand equity by finding deeper levels of courage and grit?
How will I energize my team by engendering a sense of adventure and excitement at work?
The insights and answers to these questions are integral to Job 3. Unless you act on them, you will find it difficult to stay vital, to be generative and innovative, and to maintain the edge of renewal.
To connect the dots among Jobs 1, 2, and 3 and be clear on the importance of engaging in all three levels of work, take a few minutes now to engage in the following "imagine" exercise.
First, imagine the people in your organization show up every day to address the immediate business needs. They execute their Job 1 opportunities.
Next, imagine that they concurrently reflect on their work and thoughtfully identify new ways to innovate and transform it. Then, when they take the initiative to act on their ideas by pursuing and implementing the resulting Job 2 opportunities, they create significantly better outcomes.
Now imagine that propelled by their own sense of renewal and purpose, they unleash a fountain of energy and ideas that enables innovative solutions. By embracing their Job 3 opportunities, they grow as individuals and develop as professionals and as leaders.
Imagine how different your workplace will be when your team members show up in the morning eager to do Job 1, embrace Job 2, and invest in Job 3! In such environments, almost everything is possible.
How do you build the necessary passion and commitment to do the work of Job 3 in yourself and your team members?
One of the best ways to cultivate the energy, enthusiasm, and focus required of Job 2 and Job 3 is to build a community of practice in which people debrief their learning, coach each other, and codify the insights and practices they develop.
An essential part of the strategy efforts I lead with senior teams is the integration of the above approaches and strategies. We are guided in this work by two premises. The first is that achieving an ambitious business strategy requires leaders and their teams to pursue the elements of Jobs 2 and 3. To omit either the transformation of the work or the development journey of the people is like a jumbo 747 aircraft flying on only one of its four engines: it won't get far before it is forced to make an emergency landing.
The second premise is that the work and development required by Job 3 must begin at the top of the organization. To be credible, leaders must walk the talk, practicing and modeling the desired behaviors.
For example, to truly enter the reflective space of Job 2 and Job 3, you must relax the muscles of Job 1 and deliberately step back from its tasks. Creating such space requires you to refuse to accept the alibi offered by the "reactivity trap" - a mindset in which every diversion from the plan takes precedence and becomes a crisis that demands your immediate attention, and where dive and catch opportunities are more thrilling than effective execution.
Becoming the effective and enlightened leader you can be, begins with making the space for self-awareness, for redefining priorities, and for embracing Job 3.
What actions will you take today to embrace your Job 3 as you transform your work and your life?
What conversations will you create today to engage your team in addressing their job 2 and job 3 opportunities?