CD 1: 1st & 2nd Emerald Keys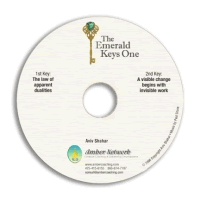 Price: $19.00
The Emerald Keys
The Emerald Keys is a set of principles and core beliefs tested and proven by exceptionally successful people.Through the study and practice of these keys you will attract to yourself the inner harmonies of success in every aspect of your life and begin to realize your true potential and purpose.
The First Emerald Key: The Law of Dualities
When you are unaware of how your life is governed by apparent dualities, you suffer from vacillation and become a victim of the conflict between two opposing vectors. Some situations require you to be firm but other situations require you to be flexible. You aspire to be professional, but at the same time, you want to be personable. You hope to demonstrate confidence in action but also be observant and open; be committed to your goals but know when to let go of an idea that doesn't work; you try to be strategic about the long term while you are focused on executing the short term. And then you look at the world and you wonder what's good for you and what isn't, what will help and what will hinder, who is a friend and who is a foe. You must first understand the law of dualities, to successfully direct these opposing dynamics to help you realize your cause.
The Second Emerald Key: A Visible Change Begins With Invisible Work
To be effective-to influence, to inspire, to encourage and to lead a change, you've got to increasingly move up the value chain and get closer to the point of origin. This is the path to releasing tremendous power and possibility into your life. A visible change begins with invisible work. The people you serve and work for, the people you support and help, the people to whom you bring a smile and make laugh, your loved ones – they all can only enjoy the benefits of your time, energy, talent and wisdom because you are here and because of who you are! They can receive and benefit from you because of your good health and well being and because you have something to give. Taking time to reflect daily and weekly is part of the invisible work that leads to visible change.
CD 2: 3rd & 4th Emerald Keys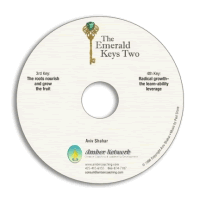 Price: $19.00
The Third Emerald Key: The Roots Nourish and Grow the Fruit
When readiness meets a need, actualization follows. FDR struggled immenselywith his polio away from the public eye. Unbeknow n to him and to the American people, he was being made ready as he fought to come through his personal despair and depression. Roosevelt's resolved determination and will power, which was fashioned during his painful ordeal with polio, is what America needed in the White House to overcome its own crippling situation, despair and depression in the early 30s and at the beginning of the Second World War. Your inner program determines your outcome. A change of outcomes and results begins with updating and downloading a new inner software; a new program. This is the invisible work we all have to do in order to lead a change.
The Fourth Emerald Key: Radical growth – the Learnability leverage
Imagine getting excited about your learning. Imagine your days full of teaching and learning with the people in your life. It's the most exhilarating way to live and it's the path to radical growth and to realizing your potential for greatness. The ability to learn is natural. The whole living eco-system we know as the universe is a learning system. It enables and embraces change, development, innovation and evolution. Species that survive epoch changes thrive by being able to adapt and evolve; triumphant civilizations, cultures and organizations are able to transform their behavior and interaction with their environment without losing their inner content and identity. What enables these organizations and cultures to change and evolve in such a way is their capacity to learn – their learnability power. On the CD we explore the ten practices and disciplines to develop your learnable capacity and stimulate radical growth.
CD 3: 5th, 6th & 7th Emerald Keys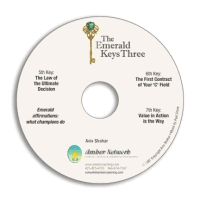 Price: $22.00
The Fifth Emerald Key: The Law of the Ultimate Decision
What is the single most powerful decision a person can make? Making this decision is the second most difficult thing to do in this world! It is also the most self rewarding decision you can ever make!
The Sixth Emerald Key: The First Contract of Your 'C' Field
To be the most effective and realize your greatest power to make a difference, you must concentrate on your 'C' field. You have to be clear that in areas outside your 'C' field, you do not invest your precious resources and time. Discover how to strategically guard and direct your precious resources to your goals, aims and purpose therein.
The Seventh Emerald Key: Value In Action is the Way
A great many developmental and spiritual teachings tell us it is a false or erroneous perception to view your Being as contingent on what you have and even on what you get to do. That it is, in fact, the
other way around. The teachings says your Being determines what you can actually do and both determine what you can have. On this CD we explore four ways to understand and align your values. Discover the
spirit of defiance in a story of a miraculous healing and the making of a long distance running champion.
CD 4: The 8th Emerald Key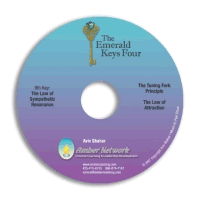 Price: $18.00
The Eighth Emerald Key: The Law of Resonance
You are the co-creator of your world. It is vital to practice self awareness and learn to listen and tune into your thoughts and feelings. Ultimately, we all create and grow to become what we think, not literally by every
thought, but in the frequency and energy nature of our thoughts.
Working with your thoughts and feelings is like learning any other skill. It is like learning to surf, play a musical instrument or program code on your computer. It takes practice and more practice. Going out
to sea with your surfboard, it's not easy at first to stay standing. You fall quickly with every wave and it looks difficult. But then you watch others do it, you practice and you catch the way of it. Next, you continue to improve and refine your technique. It gets to be fun as you get better and better. It's the same with your thoughts and feelings. You can learn to ride and surf the waves of good and productive thoughts
and connections.
What's the secret of turning negative feelings to positive, helpful and productive thoughts? This is not done by denying a negative thought that is passing through you. Rather, you use that thought to trigger
a process of reaching for a better thought, a thought you can believe in that changes the way you feel and what you can do – an uplifting thought.
CD 5: The 9th Emerald Key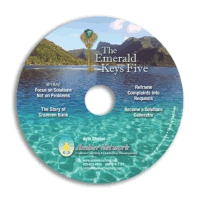 Price: $18.00
The Ninth Emerald Key: Focus on Solutions not on Problems
Einstein said: "We can't solve problems by using the same kind of thinking we used when we created them." And further, we cannot solve problems at the same level where we encountered them. In other words, as Einstein pointed out: if you are looking at a "category 5" problem you cannot find the solution while being at a category 5 mindset; you have to attain a greater capacity and a higher level from which to view the problem.
Pioneers of their fields maintain an ever present awareness that "what you focus on grows." This mindset leads them to direct their attention to solutions rather than problems. Focusing on solutions is even more
essential in a collaborative effort. When you work with others, whatever you focus on together gets multiplied and magnified. Great solution generators first reframe the problem in terms of a desired outcome.
Instead of saying: "he doesn't want to talk to me," they say: "how do we open a collaborative dialogue?" Instead of saying: "we cannot get from A to B," they say: "we want to get to B, what tools and technology
do we need to make the journey and get to there." Reframing problems in terms of the desired outcomes helps you focus on solutions.
CD 6: The 10th Emerald Key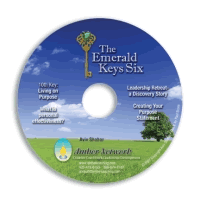 Price: $19.00
The 10th Emerald Key: Living on Purpose
Personal effectiveness is an action that gets results aligned with your intentions, values and purpose. It is the place where your impact matches your intent. In this Key we help you find and articulate your purpose.
We take you through a step by step process to discover your deepest beliefs about yourself and articulate your life affirming purpose.
Some people discover their purpose early in life, but most must journey a long road to find it. To have true personal power it's important that you get in touch with this inner core and find the confidence to believe
in yourself. Your life here on earth is significant. What you are here to do matters. Living on purpose is how greatness reveals itself. As you realize your potential for greatness, you can become one with your reasons for being.
CD 7: The 11th Emerald Key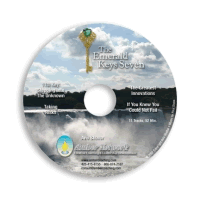 Price: $19.00
The 11th Emerald Key: Stepping Into The Unknown
When you were born, you entered this world not knowing failure. The concept of failure did not exist. All you cared about was discovering and exploring everything around you. This joyful impulse to live with your senses wide open to discover the opportunities of living is the experience we are seeking in this key. Reflect on your attitude towards risk – do you step up to opportunities or do you hold back? When did you last take on a new bigger challenge? When did you promise to yourself or to someone else to deliver something without knowing how you would do it?
This creative tension is what pulls you up into a "venturi" tunnel of new possibilities-to discover innovation you did not know was locked in you. Great innovators and visionary leaders take on a greater challenge. It develops them to be bigger persons and discover the capacities needed to realize their dream. It's the same for you – you have extraordinary capacities that you are not aware of until such time as you face a new unknown circumstance where these capabilities are needed and are pulled out of you.
CD 8: The 12th Emerald Key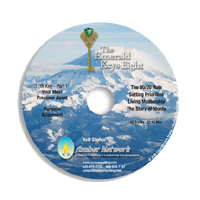 Price: $18.00
The 12th Emerald Key: Your most Precious Asset
In this key we explore a profound game-changing realization. Like a shining emerald with its brilliant facets, so too is the nature of liberation and the can-do power that comes with unlocking this secret. Discover your most precious asset. As you develop this practice it will bring to you tremendous returns and lead you to extraordinary results.
What is the one thing without which time has no meaning? What is the single most essential thing you bring with you wherever you go that determines what you can do? Yes, it is ENERGY! Energy is a currency even more fundamental than time. You can have all the time in the world, but without energy and without applying energy into the time you have, time doesn't mean anything. You've got to become a student of your energy
cycles so that you can optimize what you do, your effectiveness and impact.
CD 9: The 12th Emerald Key – Part 2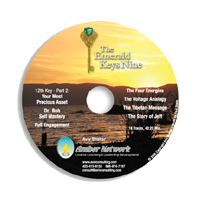 Price: $18.00
The 12th Emerald Key: Your most Precious Asset – part 2
What are the energy dynamics of relationships? How does energy as the most essential currency of life get expressed in interpersonal situations and group dynamics?
We focus on four levels of energy: the physical, mental, emotional and spiritual energies. Living mastership is to bring to what you do exactly what it needs. Like playing a flute, too little energy and air applied and there won't be much sound coming out. Too much energy or air coming out and a dominant and distorted sound will come out. There is an exact amount and velocity of air that produces a fine tune. Such is the case with the way you use your energy. On this CD we explore stories of mastership – The story Dr. Bob and the story of Dave. Our hopes are for you to become the great person you are on the inside; that you realize your purpose and create a meaningful legacy. To do these things you need to apply your most precious asset. You've got
to invest, nurture and build your multiple energies!
CD 10: The 13th Emerald Key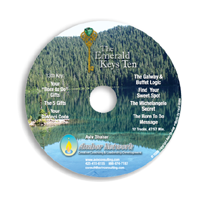 Price: $19.00
The 13th Emerald Key: Your "Born to Do" Gifts
The oracle of Delphi had written at the entrance "know thyself." The message meant that by knowing and understanding your nature and the way you are made and work; by having insight to your patterns and inclinations you gain access to the greatest secrets of all. Understanding the workings
of human nature and of self is the gate to all things. Self insight and knowledge of the patterns, cycles and changes you go through, open the gate to a great many mysteries. It empowers you and enables you to unleash and realize the meaning and destiny of your being here at this time. On this CD we explore your 5 Gifts and coach you to find your sweet spot. Mozart's gifts were different from Michelangelo's. Michael Jordan gifts are different from Michael Phelps; Warren Buffet and Steve Jobs are each gifted in a unique way. All of them discovered this secret – the "Born To Do" gifts, each in their respective field.
Emerald Keys Refresh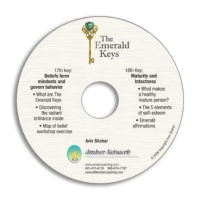 Price: $19.00
17th Emerald Key: Beliefs Form Mindsets and Govern Behavior
What you see and perceive, and what you experience is governed by your beliefs. Change is not easy. We often wait for change to be forced upon us in some challenging or painful way. This happens when you refuse to take in and apply the hints coming from your own body and from the environment suggesting that your map of beliefs and meaning needs updating. When you ignore these hints they tend to get stronger and louder. When the world comes crushing down on you it is a crescendo message to help you realize that your map of beliefs and mindset is outdated and is taking you straight into a wall.
The Berlin wall was knocked down by people who gave birth to a new perception and belief. They realized that the power had shifted; they realized they had the power and ability to make a change. Today, many
years later there are still people living in the two sides of Berlin who carry the wall around in their mind. It is often more difficult for people to make the change on the inside. They continue to resist a new reality that has emerged. It's as though we all live in a time machine inside our heads and we each have the power to decide, whether we live in the here and now or in some other time and place.
18th Emerald Key: Maturity and Intactness
What are the signs of maturity? If you have children – what are your hopes for them? What do you hope for as a parent for when they grow up?
We explore the five most important elements of self-esteem and self-respect. And why are these t hings so vital for a person's developmental journey and maturation?
Healthy self-esteem is the secret of flexible and resilient leaders. They know themselves and come out of an indestructible core that engenders confidence in the face of difficulties. They help people refocus on
what's important, move forward and take action from a place of strength.